You Look Hungry
May 17
[video]
May 06
SMALL BLACK BRINGS THE BREW.
Are you waiting for the release of Small Black's forthcoming album, Limits of Desire to drop? This is the summer album we've all been waiting for, the one that inspires long drives, make-out sessions and beach scenes, if only in our minds.
Take a deep breath. You've got until May 14th to get your summer on in full effect.
In the meantime, you can kill some time and watch Friday Night Lights.
You could also listen to the time Small Black paid me a visit in the radio booth to talk about their music, touring, and Friday Night Lights.
OR you could unwind on this boozy news update: Small Black has paired up with Stillwater Beer for the second volume of the brewery's Sensory Series. Stillwater crafted a black saison repping the band's moniker and overall swag.
According to beer master (and former music producer/DJ) Brian Stillwater, "After many listens to the new album we agreed on the track 'Breathless' as inspiration for the beer. The tune instantly jumped out as a summer anthem and reminded me of my days as a electronic music producer & DJ. Uplifting pads, soothing vocals, and a solid 4/4 kick give the song a powerful drive while still maintaining its beauty and elegance.
In constructing the accompanying beverage I took a similar direction - a dark black beer that maintains the elegance of the song. I decided on a base of German malts and a debittered roasted barley to provide more dark color with very little actual roast flavor. German Hallertau hops are used to create a smooth bitterness and spicy, floral aroma. And while the beer is black, it's extremely light bodied, fermented with Belgian yeast for a dry, slightly fruity, spicy finish at 5% ABV. Perfect for those late night summer parties."
When you purchase the beer you can creep on the video for Breathless (for free.) 
Wait so, I can listen to this album, drink beer and wear short shorts outside? I'm putting my Jazzy Jeff Summertime vinyl on the back burner.
Small Black has already figured my summer out for me. Thanks dudes.
Go see them live because they might kick it in your town this summer. See what I mean here.
Clear Eyes. Full hearts. Can't lose.
May 02
BURGERLORDS + PIZZAPRAYERS + JEN PELKA = RADIO VIBES
Have you noticed how tight the art/GIF game is on Tumblr? Especially in the food and drink section?
What I'm really trying to say is check out BurgerLords and Pizza Prayers, the incredible art blogs from a dynamic duo of L.A. natives (and brothers), Max and Fred. 
Restaurateurs by day, art  gangsters by night, Max and Fred own The Oinkster (that makes some of the most killer burgers in all of California), Maximiliano ("kinda" old school Italian) and Little Bear (a Belgian Beer Cafe). 
Visiting the BurgerLords or PizzaPrayers sites are like falling into a rabbit hole. By the time I snap out of it, I'm answering my door, tipping the pizza delivery guy, or firing up the grill to make a burger worthy of the ones I've been swooning over for the past couple of hours.
I guess this is the part where you figure out that I'm having them on my radio show, U Look Hungry, today, Thursday May 2nd at 6pm (EST) on the Heritage Radio Network.  When I thought this show couldn't get any better, the inimitable Jen Pelka, Tumblr Food & Drink Evangelist, is also coming on the show to discuss what's shaking on Tumblr, the state of the GIF, the L.A. food scene, and so much more.
Stream the live broadcast here via the Heritage Radio Network. If you miss the live broadcast cause' your going in on that second pizza pie, take your time and listen at your leisure by downloading the (free) iTunes version of the show.
I promise that today's show will be nothing like this situation.
May 01
A hint to what's going down on tomorrow's episode of U Look Hungry radio.
More info will be revealed tomorrow morning.
Until then, Pizza Prayers. And Burger Lords. And LOTS of Champagne Problems. 
Food Book Fair Panel! Come Join Us!
Put the iPad away. Walk to your bookshelf. Pick up a book. 
Smell it. 
O.K. Now you're in the proper mind set for what's in store this weekend. 
Also, it would help if you're hanging out in New York. In Brooklyn, to be exact.
If you are, indeed, within close proximity to the 11249 zip code, (starting Friday), come to the second annual Food Book Fair, which will be held at the swanky Wythe Hotel.
More specifically, come hang out with me and the crew from Slideluck this Sunday, May 5th from 4:30-6:30. I will be moderating a panel on food and the underground dining movement. We're gonna get into the contemporary context of the supper club and it's various environments and its cultural impact on the dining experience, Charlie Rose style.
We've got ballers like Michael Cirino from A Razor, A Shiny Knife, Author/Chef Brandon Baltzley of Crux, Danielle Belle and Pablo Osorio, Founders of de Porres, Chef Dave Santos of Louro Restaurant and Adam Sirois, Co-Founder of Underground Eats. 
The discussion will be followed by a reception (translation: cocktails and amazing food provided by de Porres.) 
Buy your ticket(s) here via the Food Book Fair website, or enter the contest over at Brooklyn Based, where they're giving away two free tickets to this shindig.
It will be a much tastier version of Reading Rainbow. The only downside is that LeVar Burton won't be there.
Apr 25
[video]
Apr 19
(Source: defendneworleans, via weareconstance)
Apr 18
Saveur.com's Helen Rosner on U Look Hungry Radio
Let's be honest. Saveur Magazine is an institution. It's my happy place for gorgeous content draped in tradition with heirloom tendencies, jam packed with beautiful swoon worthy food photography, and James Beard Award winning (and worthy) editorial content. 
(Kicking photo via Saveur's killer Tumblr blog.)
In this current era of a massive digital shift across various mediums and workplaces, it's exciting to take a look at influential magazines to see what they're up to in the wi-fi zone.
(Photo via Saveur's Tumblr blog.)
Tune into U Look Hungry radio LIVE at 6pm (EST) today, Thursday April 18th, 2013, as I sit down and chat with the illustrious Helen Rosner, Executive Digital Editor at Saveur.com, to discuss the dynamic and emerging content of Saveur Magazine's digital presence, only on the Heritage Radio Network. I'm also incredibly excited to be chatting with another Helen who's under the age of 85, but that's completely unrelated.
(Photo via Saveur's Tumblr blog.)
If you're too busy voting on the Best Food Blogs contest, well done. I've spent the past hour watching videos from the Saveur test kitchen (Check out Todd Coleman's seriously badass trick for peeling an entire head of garlic in under 10 seconds.) There's a lot of great content to take in. My suggestion: take your time and listen at your leisure via the (free) iTunes version of the radio interview here.
Apr 15
Jared Leto vs. Tapatío
A wise source just blew my mind on what Jared Leto might be up to these days:
OR
Apr 11
We Going H.A.M. on Pork Roll.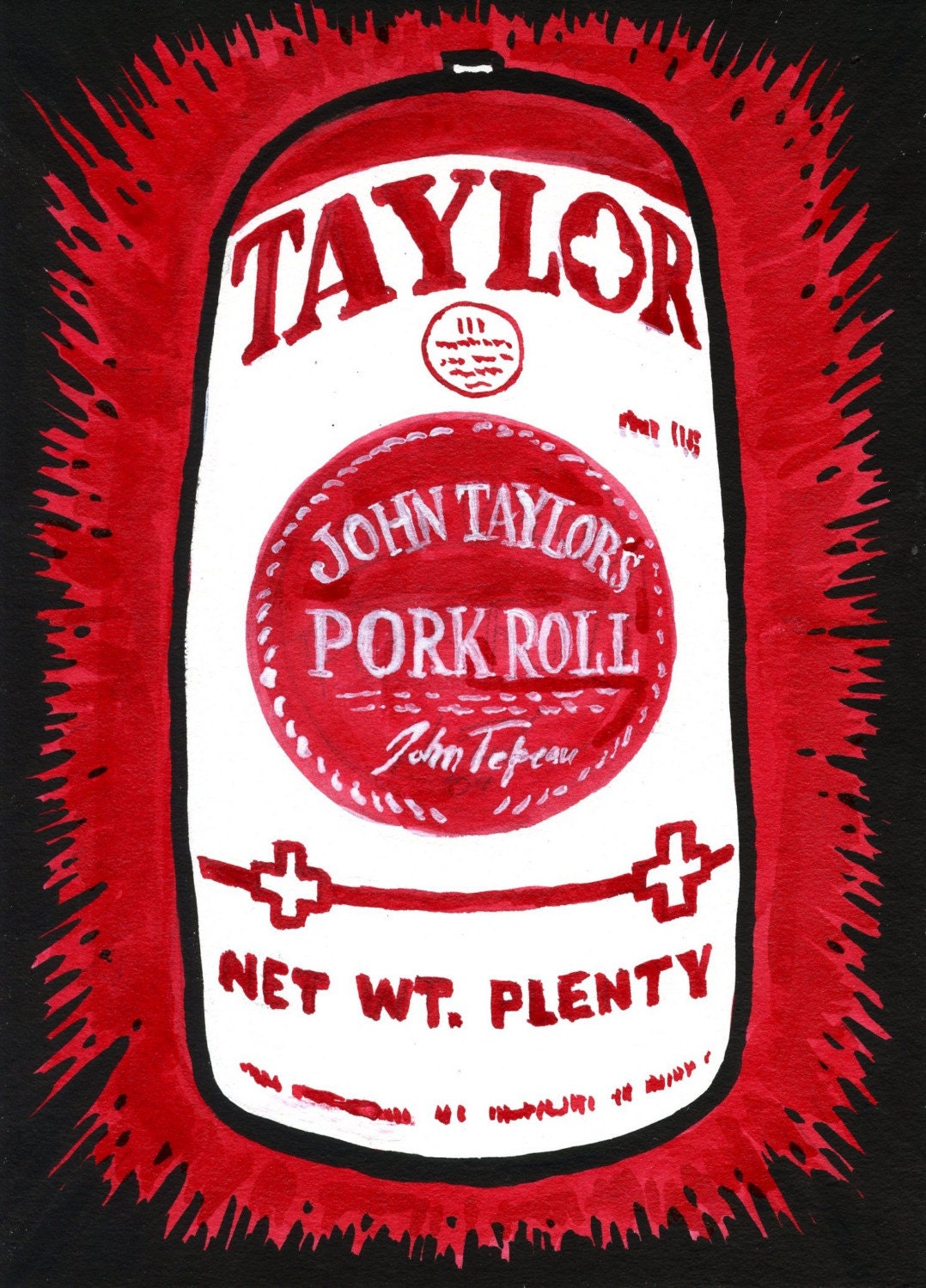 Texas has beef jerky. Hawaii has SPAM. Louisiana has boudin (and countless other magical meats). New Jersey has pork roll. Yes. Pork roll, also known as "Taylor ham."
Have you ever heard of it? Picture a rounded roll of "pork" that arrives in a cotton sack. It's virtually impossible to find outside of the Garden State lines, unless you drive to Philly.
According to Jersey lore, a Republican politician/grocery store and meat mogul, John Taylor, concocted the mystery meat in 1856 in Trenton, New Jersey. It's popularity spread like wild fire, carving a niche in the contemporary pantry of iconic New Jersey eats.
Tune into U Look Hungry LIVE at 6pm (EST) today, Thursday April 11th, 2013 as I chat with Chef Kevin Pemoulie of the James Beard nominated Jersey City, New Jersey restaurant, Thirty Acres, broadcasting to you from the restaurant's holy walls, only on the Heritage Radio Network.
Crank it loud as we explore this pork party and it's elusive history, what's going on at Thirty Acres today, and so much more.
Refresh your mind and your palette on Thirty Acres by audibly cruising the last time that I spoke with Kevin one year ago before the restaurant had opened its doors.
If you're too busy going H.A.M. on pork roll, I get it. Take your time and download the free iTunes version of the radio broadcast here. Whatever you do, remember to cut the Taylor ham around the edges, otherwise it will curl up and ruin that hangover egg sandwich.